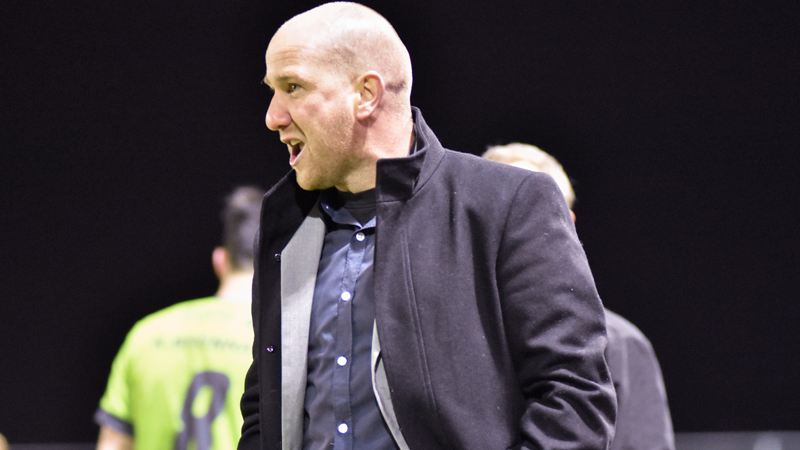 Keegan hails excellent second half performance
Shane Keegan was delighted with his players after Friday night's 1-1 draw against Finn Harps in Ballybofey.
The Tribemen went behind in the first half when Paddy McCourt threaded a ball through to Sean Houston, who found the bottom corner of the net.
United came out a different team in the second half, dominating proceeding, cracking the woodwork on three occasions and creating chance after chance and despite not claiming the full compliment, Keegan appreciated the application of his players in difficult conditions.
"It's mixed emotions. I was so, so happy with the second half performance, obviously that's been a problem for us in the first two games. We were absolutely superb in the second half so I'm really happy on that side of things," he explained to www.galwayunitedfc.ie.
"You're looking back at the fact that you dominated and hit the woodwork so many times and we're wondering how we didn't come away with three points, that's the frustrating part. But we have to look at the positives.
"We played with two up top in the first half, it was working quite well, we probably just about edged the first half, even though we were 1-0 down.
"The fact that their two full backs were staying back quite a lot made us think it might be an opportunity to go with three up top and that's essentially what we did in the second half, we really wanted to have a go at them. It worked, for Kevin (Devaney) to get on the ball so early and score was great. We created chance after chance."
At half time Keegan emphasised the importance of putting in a serious shift in the second half and he was pleased with the reaction he received from his players.
"We couldn't have three games back to back where we didn't turn up in the second half. That was the big emphasis at half time, rather than dropping two or three gears, we need to go up two or three. They were outstanding in the second half.
"The dressing room is frustrated, they are trying to figure out how they didn't get three points, but in a positive light. The players are looking at the positives, it's frustrating, we would argue we should be sitting on six points at the moment, but we're on one, there is no getting around that, but we've two games to come in the next few days and chances to accumulate some more points.
"The one thing little thing we have a concern about is having worked as hard as we did tonight, on a pitch that was lets be honest, heavy, and took a lot out of our legs, it's going to take a serious effort to put in another big performance in such a short turnaround time.
"Looking at our last substitution, there was probably three players that were ready to come off. They need to put in a big 48 hours now in terms of recovery, we need to get things right and our session on Sunday will be really light and more of a walk through. I think that performance tonight will give them confidence going into the Shamrock Rovers game on Monday night."
Keegan concluded his press briefing by thanking the United fans who made the long treks to Turners Cross and Finn Park over the last week.
"The support tonight was superb, it's easy to applaud the players off the field at the end when they've done very well, but the point is, when we were 1-0 down, they were making lots of noise and giving us a lot of support. So thank you to them."