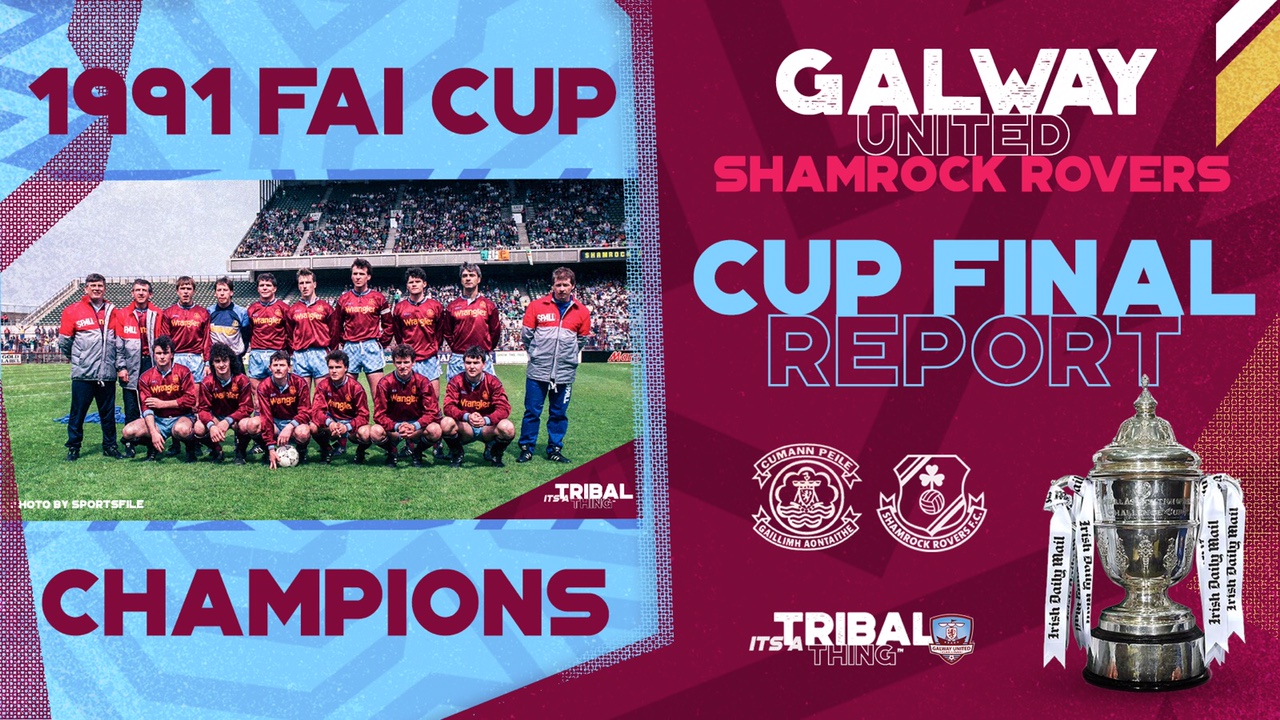 Match Report | Galway United 1-0 Shamrock Rovers (1991 FAI Cup Final)
"I said all along we could beat Rovers and I proved my point. We were the better team and deserved our victory." – Joey Malone, Manager
Galway United defeat Shamrock Rovers 1-0 at Lansdowne Road to win their first-ever FAI Cup, thanks to a late goal from Captain Fantastic Johnny Glynn.
Galway United faced cup specialists Shamrock Rovers in front of 15,257 spectators at Lansdowne Road, 8,000 or so being United fans.
United, who put immense pressure on the Rovers defence from the first whistle, started the game strongly and could have been awarded a penalty in the 11th minute. Noel Mernagh was taken down by Paul Kavanagh in the box but referee John Purcell opted against awarding the spot-kick.
From the resulting play, the ball fell at the feet of Tommy Keane who had a chipped effort headed over the bar by Dave O'Connell with keeper Kavanagh stranded.
Keane's attempt was the only clear-cut chance of the first-half, although Rovers looked threatening in attack through Derek Treacy.
United came out for the second half eager to pull off an underdog victory.
Shamrock Rovers settled down and enjoyed a spell of possession midway through the second period. They had a penalty claim in the 54th minute waved away by Purcell when Larry Wyse challenged the ever-dangerous Treacy in the area.
Another penalty claim came seven minutes later, this time for United. Mernagh was tripped by Rovers' captain Peter Eccles in the box but Purcell ignored United's protest as he waved play on once again.
United began to get a grasp of the cup final but Rovers still looked lively in attack. Both Arkins and Swan could only hit their efforts wide of the target as both sides searched for the opening goal.
As the game ticked on, United were gaining confidence and looked most likely to hit the net.
The most significant and most important moment of the game came in the 86th minute. As fans were bracing themselves for a replay, up stepped captain Johnny Glynn with a winning goal. Keane raced down the right wing and crossed a low ball into the box which Glynn converted at the near post to send the Tribesmen and the county of Galway into euphoria.
Joey Malone's side had pulled it off. Galway United – 1991 FAI Cup Champions.
Post-match reaction:
"I said all along we could beat Rovers and I proved my point. We were the better team and deserved our victory." – Joey Malone, Manager

"I don't know whether I hit the ball with my left or right foot. All I know is that the shot flew into the net and I was the happiest man in the world." – Johnny Glynn, Captain & Goalscorer

"Well, I asked a couple of the lads to pinch me and it actually hurt. Mind you, we were confident, we knew we were going to win this game." – Tommy Keane, Man Of The Match
Teams:
Galway United
McIntyre, Morris-Burke (Lally 65′), Nolan, Rogers, Cleary, Wyse (Cassidy 89′), Campbell, Keane, Glynn, Mernagh, Carpenter
Goalscorer: Johnny Glynn (86′)
Shamrock Rovers
Kavanagh, Devine (O' Connor 87′), Cooney, Eccles, Murphy, Campbell, Connell, Poutch (Byrne 87′), Arkins, Swan, Treacy
Referee: John Purcell