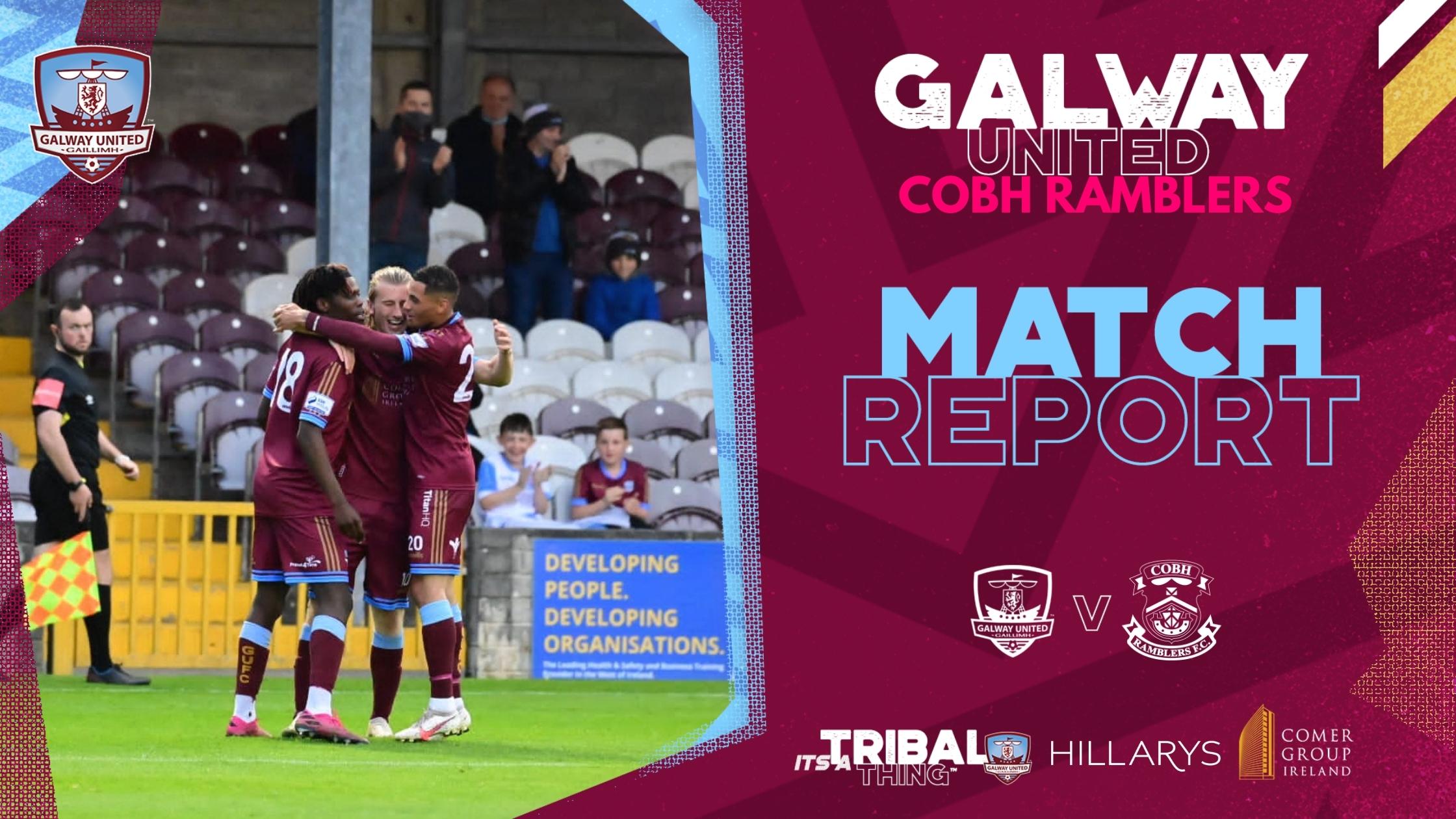 Match Report | Galway United 2-0 Cobh Ramblers (First Division)
"The work the players put in drives the standards." – Lisa Fallon, Head Coach
Galway United made it five wins on the bounce with a bloodless win over Cobh.
Another dominant performance saw Ruairi Keating (from the spot) and Wilson Waweru continue their own fine form, as United showed their class before an enthralled Terryland crowd, albeit a tiny one because of government restrictions.
It is desperately unfair on people that they cannot come to see this United team, who were brilliant from start to finish, with Gary Boylan, teenager Alex Murphy and Conor McCormack only three to mention who played exceptionally well.
The opening goal came on 13 minutes. Mikey Place, whose work rate has been superb all season, won the ball on half-way, with Rams totally exposed; he ran at James McCarthy and was bundled over. Ruairi Keating looked full of confidence taking the spot-kick, driving low to the right.
United were totally dominant and, midway through the half, Keating won the ball back, ran at goal but his shot lacked power.
United continued to press. With 14 minutes before the break, Killian Brouder, with his right foot, curled into the box, but a free-kick was given.
Brouder was again pivotal seven minutes before the break. Conor McCormack's free-kick was met by the big defender, his header clipping the woodwork.
Brouder's throws are a real threat and it won a corner a minute before the break, which was delivered by David Hurley. Whilst it was headed away, the ball fell at the back post to Brouder, who turned it back in and Maurice Nugent was just denied getting control from a matter of yards.
The second came seven minutes after the break. Again Place was brilliant winning the ball back, playing Hurley, who found Waweru. At the edge of the box, a difficult position, he rattled it home off the post.
United were full of beans and Waweru cleverly left the ball for Place on 58 minutes but the latter drove over. United continued to press and Keating's step over nearly put Waweru in on 67 minutes; the ball came back to Keating, whose shot was blocked. From the corner, Nugent's header was blocked over.
Cobh offered little offensively but made some impression with ten minutes to go. Ian Turner crossed to Fionn Duggan but the ball was cleared.
Cobh again threatened from Darren Murphy's free-kick with five minutes left but Conor Kearns, who had little to do, made himself big to save.
United closed it out with comfort and now have their sights on Shelbourne.
Post-match reaction from Lisa Fallon:
"It is really important that we keep this run going, we knew this would be a tough game. Cobh are a really well organised side but our performance was very solid.

"There were some excellent performances out there. We have got another three points and another clean sheet. Focus is now on Bray next week.

"We have been working a lot at training and the boys value the clean sheet. The work ethic is fantastic. The work the players put in drives the standards.

"Teams are taking points off each other left, right and centre in this division. That is going to continue until the end of the season. You have to earn the right to win the game. There are no easy games in this league and we knew this was going to be a tough game. Now we get the boys ready for the game next week."
Teams:
Galway United
Kearns, O'Keeffe, Nugent, Brouder (Gorman 82), Murphy (Walsh 74), McCormack, Boylan, Hurley (Duggan 82), Place (Doherty 62), Waweru (Cunningham 74), Keating.
Goalscorers: Ruairi Keating (13′), Wilson Waweru (52′)
Cobh Ramblers
Barron, Devit, O'Riordan, Lyons, Turner, Hegarty, Coleman, O'Leary, Murphy, McCarthy, O'Connell.
Referee: Robert Dowling
Our next First Division game is away to Bray Wanderers on July 16th.

Match Day Sponsor

Match Ball Sponsor