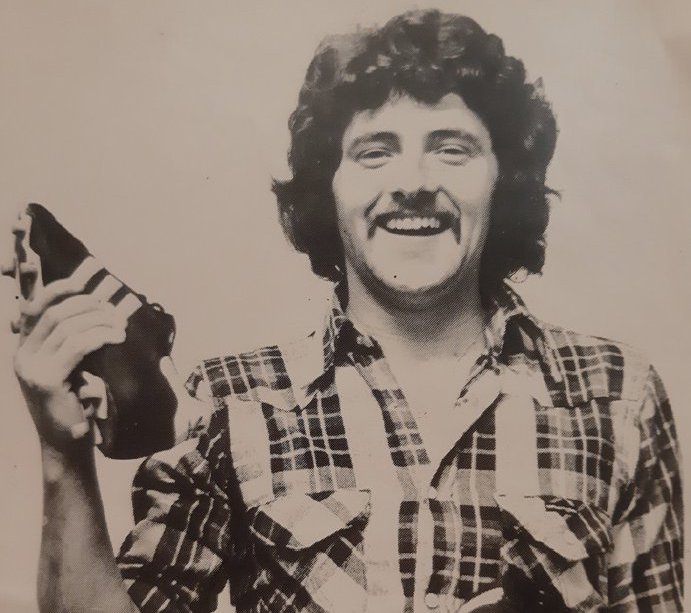 I was at the under-19 final last year when a lady beside me informed me that her dad played for Galway United. "What was his name?" I asked in the hope that he was one of our most famous players. I wasn't disappointed.
"Miko Nolan," replied his daughter Caroline so I immediately asked her if I could do a feature on him. Miko was an original Galway Rovers/United legend. This guy was teak-tough. Having being brought up in an era of watching Norman Hunter, Tommy Smith and to a lesser extent Chopper Harris, I was delighted to witness Miko playing for Galway Rovers and Galway United.
He was very popular around town because we always love to see a local lad make the team and, along with Chick Deacy, Tommy and Tony Murphy, Gerry Daly, Jimmy Duffy, Tommy Lally, Kevin Cassidy and many other local heroes, the fans loved Miko Nolan. There was an urban legend that Miko practiced his tackles on lamp posts but I reckon this guy's tackles had the effect of an earth remover.
When I see Kalvin Phillips and before him David Batty and Terry Yorath play for Leeds, I appreciate Miko's value to the side. We all love flair players and ball players, goalscorers and intricate passers but every team needs someone who can make that vital tackle, break up the play, win back possession and stop an attack to be effective.
But there was more to the Bohermore native than just hard tackles! He was quite the midfield dynamo for Our Lady's Boys Club in the mid-'70s alongside other future Galway United stalwarts Kevin Cassidy and John Cleary! These guys featured alongside more other Galway United stars of the future in Chick Deacy, Tommy Lally, Jimmy Duffy, and Mickey McLoughlin for Galway Town as well as lining out for the Galway & District League at the same time.
Miko also played Rugby for Boys' Club and Gaelic football with Fr Griffin's where he won County Senior Football Championships and a Connacht Club title. The sporting all-rounder also made the County Senior Football team and he was on the fringes of the Galway Senior side defeated by Cork in 1973.
However, it was Miko's exploits on Galway Rovers' entry to the League of Ireland that captured the attention of us football followers! I was there with my dad when Galway Rovers took part in the 1976 Bass League Cup campaign and played Athlone Town at Terryland. This was the start of a great on/off relationship of supporting the lads that continues today.
Amby Fogarty was the manager of Rovers and Trevor Hockey his Athlone counterpart. Chick, Cass, Tommy Murphy, Tony Collins and Jimmy Duffy also played but unfortunately Tommy was in goal for the midlands team having trained The Tribesmen. It was a 0-0 draw but a cracking match.
As avid followers of cross-channel football many of us were enthralled at the prospect of former Ireland and Welsh International managers locking heads. We knew it was going to be the start of something special. It was a good start as Athlone had surprised the mighty AC Milan in a European tie the previous season. John Minnock, who missed a penalty in the match at St Mel's Park against the Italian giants, caused all sorts of problems for Rovers but some fine goalkeeping by Eddie Wallace kept it scoreless.
In the second match Rovers picked up another point, drawing 1-1 away to Finn Harps. Miko moved back from midfield to defence and alongside captain Gerry Lynskey did a fine job limiting Bomber Bradley to one goal. This guy was a veritable goal machine and would go on to be record goalscorer in the League of Ireland. Chick scored the Rovers goal to give them a shot at a semi-final spot in the League Cup.
Unfortunately Sligo, with a raft of professional players, proved a step too far and an early goal from future Galway United record scorer Paul McGee proved decisive. The ever-passionate Chick got sent off as Rovers valiantly tried to claw it back. However, the amateur Rovers mainly selected from local sides had done us proud and Miko was subsequently capped on the Irish Junior team versus Wales.
The next season Galway Rovers entered the League of Ireland but had a poor start. Injury prevented Miko from making his League debut until the fifth match against Bohemians. This was a high-quality side featuring Mick Smyth, Turlough O'Connor and Eamonn Gregg. I remember watching Chick; he moved to right-back to check cross-channel target Gerry Ryan, to literally blank out the jet-heeled winger as Rovers earned a hard fought point. The ever-young Amby Fogarty came on as sub and joined Miko and Chick in the referees' book in a blistering duel.
Rovers struggled throughout their first season with former Celtic star Tommy Callaghan being brought in to replace Amby Fogarty and, with the exception of Fran Brennan, it was now an all-Galway based team. In O'Callaghan's first match, the one player who continued to show a hunger for the battle, Miko Nolan, was harshly sent off! The team now featured, as well as player-manager Callaghan: Tommy McGrain, brother of Celtic and Scotland legend Danny, with 17-year-old Gerry Daly making a huge impression too.
There was a story at the time that every time Miko bought a new pair of boots he scored but unlike tennis star Pete Sampras, who never wore the same shirt twice; this proved economically unviable for the local sharpshooter and the modest club from the west!
Georgie Quinlivan and Kieran McDaid were two of the top performers as Rovers battled to establish themselves throughout that second season in 1978/'79. Miko battled away in midfield and Tommy Murphy switched from centre-back to centre-forward back to midfield and eventually back to centre back! If Tommy McGrain was compared with Archie Gemmill then I reckon there must have been something of Graeme Souness' style about Miko.
He was teak tough but had the ability to score some cracking goals as well as create many more, none more famous than a scorcher against Dundalk in 1981 at Terryland as the team trailed by 2-1. Miko hit a screamer past Richie Blackmore and the ground erupted!
His tough, never-say-die attitude summed up the core of the Rovers' attitude to senior League of Ireland football. The squad was so wafer-thin that Tommy Lally completed one game in goal with a broken arm! The rugged midfielder got some terrific accolades for his performances that season: "A wholehearted contributor who has added vision to his game with time."
Miko was obviously maturing into his role in the progression of Galway football. He and McGrain became a very effective duo in the middle of the pitch with player/manager Callaghan sweeping up in front of the defence.
In March 1979 the coppersmith from Balybane gave an interview with a local paper and indicated that he loved playing in midfield due to the constant involvement. He loved attacking football and trained religiously as he felt that led to consistency of performance. Loyalty was a huge factor in Miko's make-up as he only played for one junior club, OLBC, with his biggest influences being Billy Carr at junior level and Amby Fogarty who gave him his break with Galway Rovers.
He felt the league would benefit from better pitches and facilities for players and better refereeing. "I think referees have a very hard job and I would not do it for any money because everybody is against them." Very true Miko and such a pity that Noel Connolly's perfect pitch wasn't there when you were in your prime!
A great fan favourite, Miko admitted to being inspired by Liverpool hard-man Tommy Smith even if the Rovers warrior felt that he played the game fairly but some players overreacted when tackled which in Miko's opinion defeated the whole purpose of the game.
I know that Norman Hunter and Johnny Giles felt the same thing when they played for Leeds! Tommy and Tony Murphy, his Rovers teammates, were his first cousins and he also played Gaelic football for St Michael's. In 1973 as well as being on the Galway senior panel the versatile Tribesman also won County Senior and under-21 Gaelic football medals with Fr Griffin's. The 5' 9", 12 stone disco-dancing, midfield general's favourite player was Lou Macari, who played for his favourite team, Manchester United. Well nobody is perfect Miko!
Former Ireland international full-back John Herrick replaced Tommy Callaghan; rumours had it that the Scot was unceremoniously dumped with a note through his letter-box; and believe me, this guy put the lads through their paces in training. He had a fondness for running if my memories from UCG days are correct! Herrick was player-manager and well capable of bone-crushing tackles still. Gerry Daly, Carl Humphries, John Mannion and Mickey McLaughlin were all part of a Rovers team that went on an extended run as Herrick set about turning Terryland Park into a fortress.
Miko battled hard in midfield as the determined Galway side reached the League Cup Final against Dundalk, none more so than when he powered the midfield to a 2-1 semi-final victory over Thurles Town at Terryland. Unfortunately Rovers were denied a win in the final over two legs. They drew both matches, the first leg at Terryland, losing the second leg on penalties at Oriel Park.
Tommy Lally summed up his all-action team-mate's contribution to the cause:
"People don't always appreciate Miko's work-rate. He always gives 100 per cent as a wholehearted player in a defensive midfield role. He is a stopper in the Billy Bremner mould (personally I can't think of higher praise!). One aspect of his game that is not exploited is Miko's ability to make penetrative passes forward. He was exceptional at this in junior football but he has not been used to perform this talent at senior level."
High praise indeed from The Lal!
Miko played for Galway Rovers/United from 1976 to 1985 when he guided the reserves to a unique hat-trick of the Connacht Senior League, the League Cup and The Connacht Senior Cup. That was some team featuring the likes of Gerry Daly, Kevin Cassidy, Ricky O'Flaherty, Brian Long and new Irish Youth Cap Johnny Glynn.
Miko became the first Galway United player to be granted a testimonial which speaks volumes for his contribution to establishing Galway in the League of Ireland. For any of us who saw Galway's entry to the League of Ireland and followed them on wet Sundays, long before we had an elaborate stand, we will never forget the whole-hearted efforts of Miko Nolan.
MIKE GERAGHTY miketgeraghty@gmail.com
(This article originally appeared in Issues 1 & 2 of the Maroon View 2020. Both games were cancelled, so it was reproduced in the issue for the 2021 season opener versus Shelbourne.)