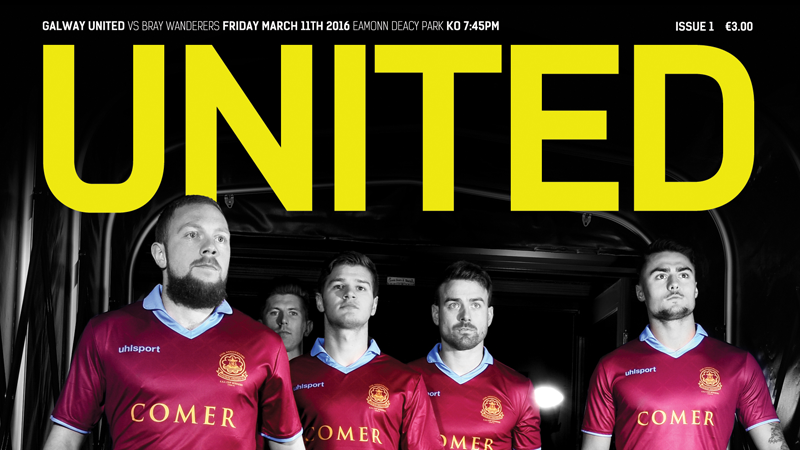 New-look Maroon View launches for Bray Wanderers game
The team at Maroon View have been working hard in the off-season on a brand new design of Galway United's official match programme.
We're delighted with the finished product and are pleased to announce that the first edition of our newly designed Maroon View programme will go on sale at Friday's home game against Bray Wanderers.
Issue 1 of Maroon View is 44 pages and we're sure our supporters will enjoy it.
Copies of Maroon View will be on sale inside and outside of Eamonn Deacy Park, so be sure to pick up yours for just €3!
Here's a preview of what can be seen in the first issue of 2016:
Chairman Jonathan Corbett recalls how Tommy Dunne told him two days after end of last season he was meeting potential signings
Editor Johnny Ward cautions against over-reaction to Pat's win
FROM THE DUGOUT: Tommy Dunne says United could get "rude awakening" against Bray
CAPTAIN'S LOG: Ryan Connolly says there is plenty of room for improvement
Paul Corcoran: This is the time of year when all dreams are alive
Cian O'Connell talks to Tommy Dunne, who says United need to rise above mediocrity
In the Kitchen with… Colm Horgan. Colm goes through his daily diet
Dominick Walsh's RISSCW/GUST notes
Report from the 3-1 win at Pat's
John Sullivan, hero in Inchicore, interviewed
Where are they now? Fergal O'Neill
Emmet Hartigan's Head Physio Notes
Getting To Know The Opposition with Bray fan Darragh O'Neill
Trevor Murray: Sky is the limit for United
Bernie O'Connell remembers old friends of United, including former chairman Gerry Gray
Punters' Stand gives the weekend's best bets
Twitterati put up the best of United-related tweets from last week
Family United: Paraic Collins meets Shane and Rossa, United fans