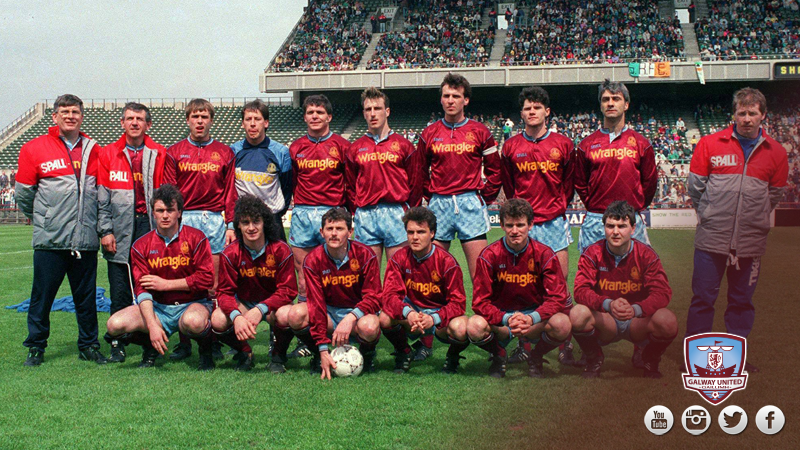 The Road to Ballinderreen
A change from our usual Woodquay Wanderer column: in celebration of our recent return visit to Ballindereen, here's a trip down memory lane – Bernie O'Connell's column on the occasion of the original fixture in August 1991.
May 12th, 1991 will be a day forever engraved in the hearts and minds of the Galway sporting public, The capture of the F.A.I, Cup was a dream come true for the Galway Soccer fraternity.
Surrounded as it is by a wealth of tradition revolving around the rich Gaelic football and hurling cousins, Galway soccer has long sported a Cinderella image. The dearth of facilities is another factor which must be encountered if soccer is to enjoy an appropriate status.
Nevertheless as United make their third entry into Europe in fourteen short years it is heartening to applaud the sporting pluralism of the Ballinderreen community. In much the same way as An Cheathrú Rua in 1986, it has spared Galway's soccer blushes. United's cup victory indicated to future generations of Galway footballers that an inferiority complex towards their capital counterparts Is not their natural lot in life.
Johnny Glynn's superb goal that afternoon was fashioned by the perseverance of Noel Mernagh and the wizardry of Tommy Keane: It was the most important Galway score of its generation and a goal of such exquisite craft and flair that it captivated the nation. There were other heroes on the cup trail for United, Tommy Kearns' transformation of the Cobh game, keeper Declan Mclntyre's reflexes against Shels and the defiant and resolute play of Jimmy Nolan in the semi-final. Others grew in stature throughout the competition and Pete Carpenter, Derek Rodgers and Stephen Lally were suitably afforded reverential status by the Galway followers.
In the aftermath of the victory, due recognition was given to the stewardship of Joey Malone. It wasn't always going to be easy to direct affairs from Dublin but the Manager instilled an awesome sense of self-belief in his charges. Old colleagues John Cleary and Larry Wyse were particularly influential in this regard.
Others to whom due credit must be afforded were Adrian Walshe and reserve coach Joe Keating who made the training grounds so instrumental in United's victory. In those sessions, the younger braves had only to look at Eamonn Deacy and Kevin Cassidy to understand what a cup medal meant.
Each of us has our own particular reason for delight at United's achievement in winning the cup and participating in the European trail this afternoon. For men like Art Friel, Joe Cunningham, Michael Geary, Billy Carr, John Joyce, Sonny McHugh, Br. Justin and Martin Keady, it is the realisation of a hope cultivated in their enlightened stewardship of Galway soccer.
It would be churlish to omit the parts that John Herrick, Tom Lally and Tony Mannion played leading to that achievement.
This correspondent had the great honour of commenting on the final for Galway Bay FM. The station's role in bringing the excitement of the Burlington Hotel celebrations and the momentous homecoming remains a landmark in its short history. I can recall vividly the tears of match analyst Tommy Shields as he struggled through the last five minutes. That night, as we relayed the excitement of the Burlington, every player asked what were things like at home. It seemed as if every Galwegian wanted to be in Dublin with the team whilst the team and its supporters sought to be back in the city,
Next day we threaded our way merrily homeward, a splendid meal in Harry's in Kinnegad, a royal welcome for Johnny Morris-Burke in Athlone. At Ballinasloe, we received a moving reception complete with brass band which led the team to a delightful welcome. To Galway via Larry's in Loughrea, the journey that lasted but minutes but you wished might have gone on forever. Chasing to the platform, I spot the figure of Bernard Shapiro in the crowd. A great man who has served soccer so well in Renmore. I learn that a real friend and United stalwart Danny Griffin is visibly moved. These men and their generation understood what it took to bring that cup to the Corrib.
Cuimhním anois ar an gcúpla focal ag Easpag na Gaillimhe leis an slua gliondarach: "Let ye go back now to Terryland and enjoy yourselves!" Dea chomhairle cinnte don nua shéasúr. Tá súil agam go mbeidh taitneamh agus spiorad na hócáide le sonrú arís go luath.
GALWAY UNITED'S GLORY TRAIL
| | | | |
| --- | --- | --- | --- |
| First round: | Cobh Ramblers (H) | 3-1 | Campbell, Keane, Mernagh |
| Second round: | Shelbourne (H) | 2-0 | Wyse, Keane |
| Quarter-final: | Limerick City (A) | 2-1 | Mernagh, Keane |
| Semi-final | St. James Gate (A) | 3-1 | Glynn, Campbell, Keane |
| FINAL | Shamrock Rovers | 1-0 | Glynn |
BERNIE O'CONNELL