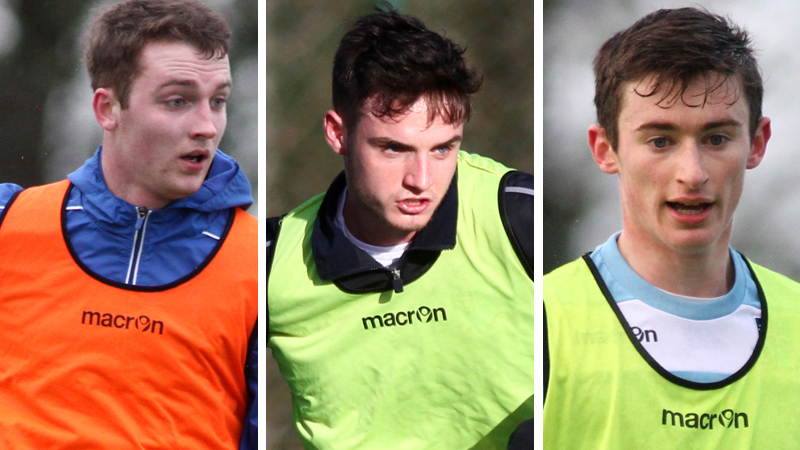 Conor Barry and Cormac Raftery have both re-signed with Galway United for the 2015 season along with Salthill Devon under 19 midfielder Antaine O'Laoi.
Barry, 19, made two appearances for Galway in 2014, with the former Salthill Devon midfielder making his debut for the club at Tallaght Stadium in September, replacing Jason Molloy in a 3-0 win against the Hoops. The Portumna native played on the same Republic of Ireland schools team as United teammates Alex Byrne and Kilian Cantwell.
Nineteen year old defender Cormac Raftery joined the club in July 2014 and soon solidified his place in Galway's matchday squad. The form of First Division team of the year selections, Colm Horgan and Paddy Barrett, meant that he was unlucky not to get a crack at First Division football.
O'Laoi, 18, joins United from Salthill Devon's under-19 team. O'Laoi represented the Republic of Ireland at under 16 level and he was in the same Irish schools side as former Galway United midfielder Ryan Manning.
Commenting on the signings, manager Tommy Dunne told www.galwayunitedfc.ie: "These are three very young players that have come through the systems within Galway.
"We're looking at playing Cormac as a full back potentially or, possibly a midfield player," Dunne added. "Cormac has really come on leaps and bounds. He's training full time with us and he's really training well. He's got a lot to learn but has a lot of potential."
"Conor Barry was introduced a little bit more than the other two last year, he got a taste for it. We've stepped up another level so we're trying to get these guys up to speed and moving well."
"We see a good future for Antaine in the game, he's got potential, to what end that potential will lead to, we don't know but if he continues to train well and work hard then there could be opportunities for the likes of Antaine and lads like Conor and Cormac.
"A lot of it comes down to the individual themselves and how much they're prepared to work and how much they're prepared to sacrifice.
"The three lads are good additions to the group and we hope they can develop at the club and perform when the time comes," Dunne concluded.
2015 GALWAY UNITED SQUAD (16): Ger Hanley, Connor Gleeson, Colm Horgan, Kilian Cantwell, Stephen Walsh, Marc Ludden, Gary Shanahan, Paul Sinnott, Alex Byrne, David O'Leary, Ryan Connolly, Aaron McDonagh, Enda Curran, Cormac Raftery, Antaine O'Laoi, Conor Barry.
Get your Galway United season ticket and be ready for our opening fixture against Derry City at Eamonn Deacy Park on March 6!
[table id=1 /]
Purchasing a Galway United Season Ticket will allow supporters to make massive savings compared to paying in on a match by match basis, amounting to a total of at least six free games!
For further information on season ticket prices, outlets for purchasing and benefits, see HERE.